Archive for the 'Words To Live By' Category
---
Perusing a great bargain art print shop yesterday, Society6 (via Urban Outfitters), we came across this and burst into laughter at the thought. Sometimes, this is just fitting.  Keep calm? Nope!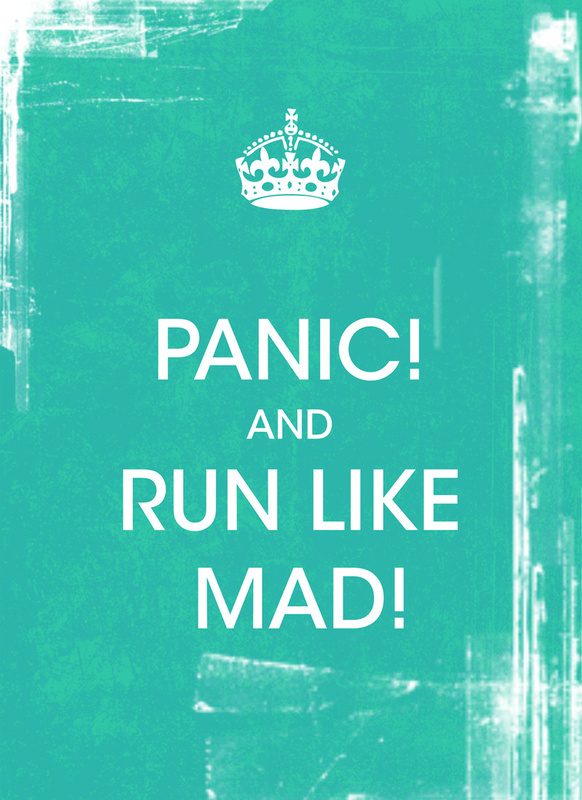 It also brought to mind our trip to Miraval Resort in Arizona last November – when after signing up for a team-building challenge called Giant's Ladder, we both wanted to RUN. LIKE. MAD.
But we didn't. And he we are, along with a very kind guy named Brad who was assigned to join our duo (and we were thankful to have him!).  It was a thrilling experience to climb that ladder and face our fears!
So today, here's to keeping calm and carrying on even when running may feel a bit easier!
---
A special Saturday, holiday edition! We share an important lesson from Brooklyn Magazine, as our last ribbons are tied and bows are placed…
Merry Merry! xo, S+A
---
Our company has been blessed with quite a bit – from our first amazing set of clients to some incredible press with Trad Home and most recently, the chance to raise money to support Housing Works – all in our infancy (we are still awaiting our one year anniversary this July 14th!).  We're taking a moment today to stop and give thanks for the chance to come into work each morning and be excited about what we do together, creating beautiful homes for our clients.
This NYTimes article from yesterday's Home Section, "After a Stroke, Relearning Home" not only tugged at our heartstrings but gave us a renewed sense of joy and let us stop to smell the roses.  The story of a husband and wife dealing with his rehabilitation after a stroke, we were touched by this exquisitely written piece which explores the importance our homes play in our lives.  A brief passage which describes the first moments back home from six weeks in a rehab facility…
"Paul faced many months of rehabilitation, and several years of speech therapy, before he would be able to speak and write again. But on that July day, his face seemed to say that — whatever else fate might impose on him — at least his world had a home again. The pool was open, the sun hot. After we passed through the house, I guided him onto the back porch. He sat in an armchair in the sun, tilted his head skyward and closed his eyes."
---
---