Archive for the 'Food' Category

Designers: Payton Cosell Turner and Brian Kaspr (Flat Vernacular) / Custom Wallpaper for Alison Eighteen Restaurant
Last night a new restaurant opened in the lobby of our office, Alison Eighteen.  While we are elated at the thought of the many delicious power lunches in our future (we've already picked out our booth!), we could not contain our excitement when we heard a few months back from the restaurant's developer that there were plans for some wow-factor wallpaper.
The restaurant's design team, Asfour Guzy, commissioned the Brooklyn based talents at Flat Vernacular (carried at StudioFourNYC) to illustrate a custom toile for Alison Eighteen, complete with motifs of fruits and veggies, anthropomorphic chickens and a NYC streetscape – what we presume to be our own 18th Street! Check out some more of this wallpaper creation that really makes us smile…
A favorite moment: occupy chickens carrying signs "Sex, Drugs & Rock 'n Roll" !
Make your reservation to try some delicious new food and check out this paper here!
---
---
Restaurant Week Series Continues!
We love a place like Roebling's Tea Room in Brooklyn.  Here, in the depths of Williamsburg hipster culture lives some fabulously kitchy hunting motif wallpaper which could be straight out of the pages of The World of Interiors.
What a great example of wallpaper showing it's true versatility (read: Hey! It's Cool for Hipsters too!). #WallpaperWeekly
Check out the menu here.
---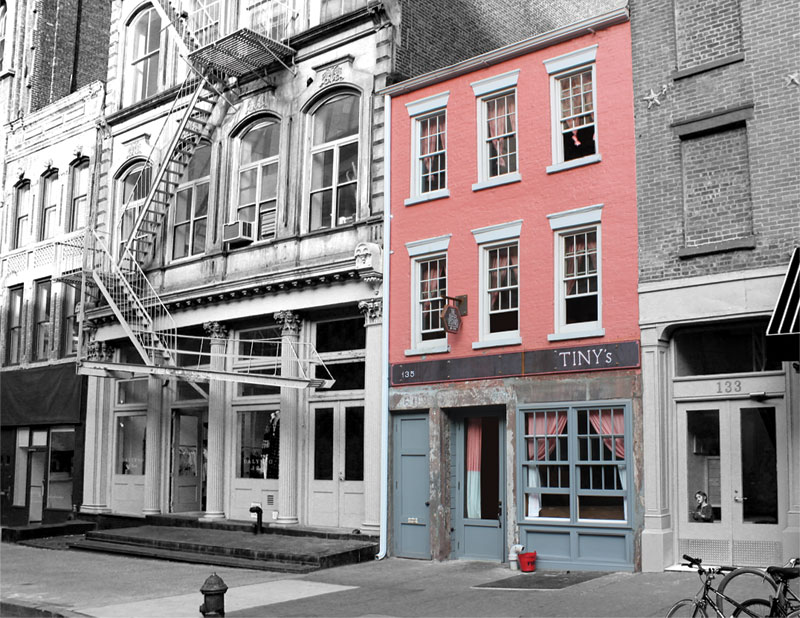 Day two of our Restaurant Week series. How cute is this spot Tiny's on West Broadway in Tribeca?? The food is as good as this place cute…and we love that they kept to the original color scheme: an 1810 building with salmon pink facade!
The coziest of dining rooms…
And, the dining upstairs. Can you handle the adorable bright pink cafe curtains?!
Industrial chic. And we love when interior design gives a nod to history…
"This vision led him cross-country and overseas to source vintage materials for Tiny's interior. The base of the copper canopied coffee bar is covered in handmade Dutch tiles he found in Holland. Abramcyk justifies this with a nod to an oil painting of Amsterdam hanging in the hall, a shout out to Manhattan's New Amsterdam roots." – Stephanie LaCava, NYTimes, April 14th, 2011.
Check out what else the NYTimes had to say, or take our word for it! It's adorable and delish!
---
---