Archive for the 'Fashion' Category
Were you watching the live feed video on Vogue.com last night of the annual Met Ball red carpet?  We were following the trending #MetBall on twitter and trying to catch as much as we could from our iPhone live streaming video of the celeb packed gala – which celebrates the opening of The Metropolitan Museum's Costume Institute spring exhibition, "Impossible Conversations" which explores the connections between Elsa Schiaparelli and Miuccia Prada (check out a preview of the exhibition today on Habitually Chic).
In honor of last night's celebration of fashion, we wanted to share one of our latest favorite resources for interiors related images: Fashion + Decor, developed by our friend, Gretchen Aubuchon.  Fashion + Decor is a new database of style pairings – where your wardrobe meets your room. Here's a quick snap of a few of their style pairs – including a Tilton Fenwick designed room (we were honored to be included!)
So many great style pairings – check them all here!
---
---
---

Manufacturer: Gracie Studios / Pattern: Custom Handpainted Chinoiserie Scene
How elated were we when we heard the news yesterday? Tory Burch Fall 2012 Runway featured a wallpaper clad set – deeming it the perfect wallpaper weekly selection for today.
"For Fall 2012, we were inspired by the idea of a prim girl who's under the spell of the wrong kind of guy. She's an innocent, unaware of her own sex appeal. The setting? The hotel where they meet." — Tory
For the 'hotel' runway set, Tory chose a wallcovering that is perhaps Gracie's most iconic – as seen on the pages of Vogue in Tory's own NYC apartment, and one of the most famous images of Pauline de Rothschild, also from Vogue, 1969 – both pictured below.
For more information on the history of Gracie Studios, check out this interview by Patricia Gray.
And, here, for all of Tory Burch Fall 2012 runway collection highlighted against gorgeous Gracie!
---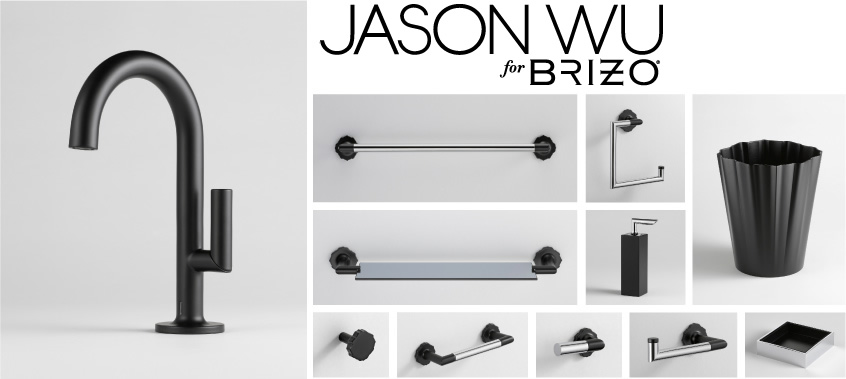 Today is the day! With a veryyyy special thanks to all at Brizo Faucets, we're attending the Jason Wu fashion show this afternoon at Mercedes Benz Fashion Week !!
Yesterday, the amazingly generous and close-knit team at Brizo (pronounced 'breeze-o') gave a presentation to 19 designers and architects about the intense design and development process they go through to create a kitchen or bath suite.  From initial inspiration on a paper napkin to a 3D computer design, printing 3D models to prototypes with true metal plating, the engineering complications to the final execution, the insight we gained will never again allow us to look at a faucet or even a toilet paper holder in the same way!  We were wow'ed by the process – and it became immediately clear the team at Brizo really love what they do – this passion and talent is reflected in their products.
From the very beginning of Jason Wu's career, Brizo has been sponsoring his fashion shows.  Before the Inauguration Gala gown, Brizo saw the true talent of a young designer and took a chance.  We heard stories of some of Jason's first shows, where just 2 rows deep, many of the seats were empty.  This afternoon, we'll be a tiny group sitting 6 or 7 rows deep and surrounded the fashion industry's most influential and important people and we're sure a celeb or two or ten.
So, as the relationship between Jason and Brizo has grown, it only made sense for a further collaborate on a faucet and bath suite.  Right now, the Jason Wu collection is available via limited pre-order.  We loved hearing the story behind this special collection for Jason, who started with the faucet above.  Clean and stream line (do you remember his apartment we posted on Monday?), Jason took to this design, in a custom matte black finish.  After the faucet was selected, the Brizo designers described their bewilderment when Jason came in with Robert Polidori photographs of Versailles that he was using as further inspiration in combination with his matte black streamline faucet.
It is through this Polidori / Versaille inspiration that the baroque style rosette detail was born and the collection completed for Jason and Brizo.
This is Brizo's foray into waste paper baskets (ha) … one of the very few demands from Jason, who could never find a basket that would fit his own bathroom. This is certainly a chic and appropriately scaled version! Get yours on pre-order now!
Click here for a great video to see Jason's discuss his design process and collaboration with Brizo.
We'll be tweeting live from the show this afternoon, which is scheduled to start at 1pm.  Follow us @tiltonfenwick to follow along!
---